Yakima Accessories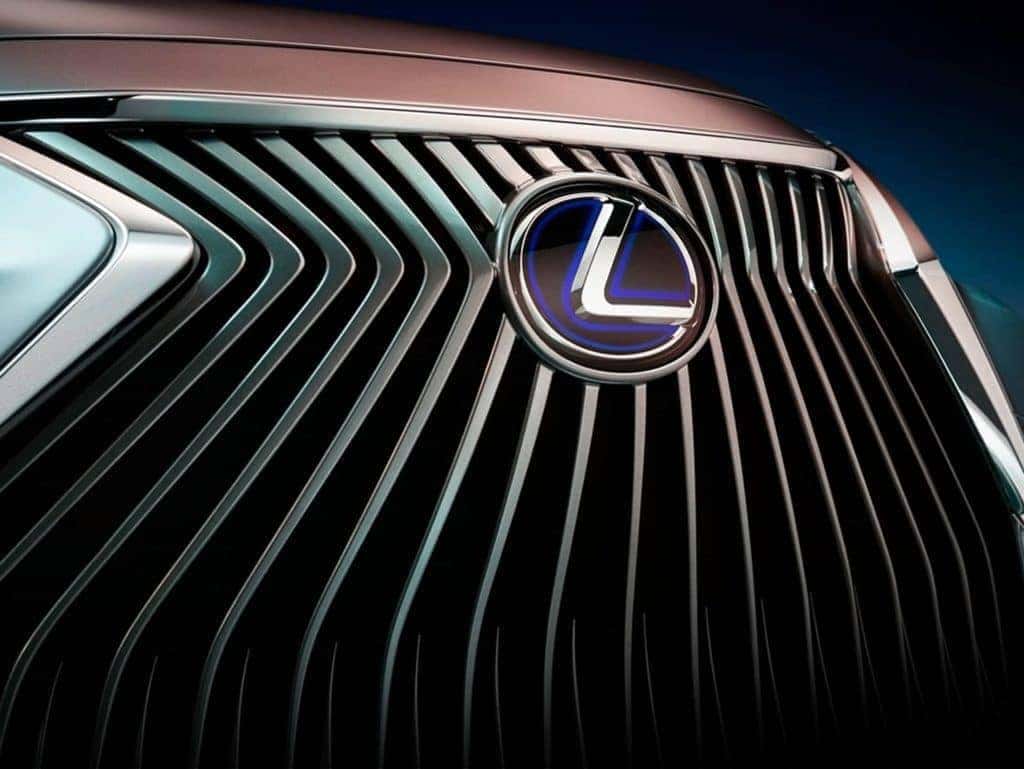 YAKIMA ORDER FORM
---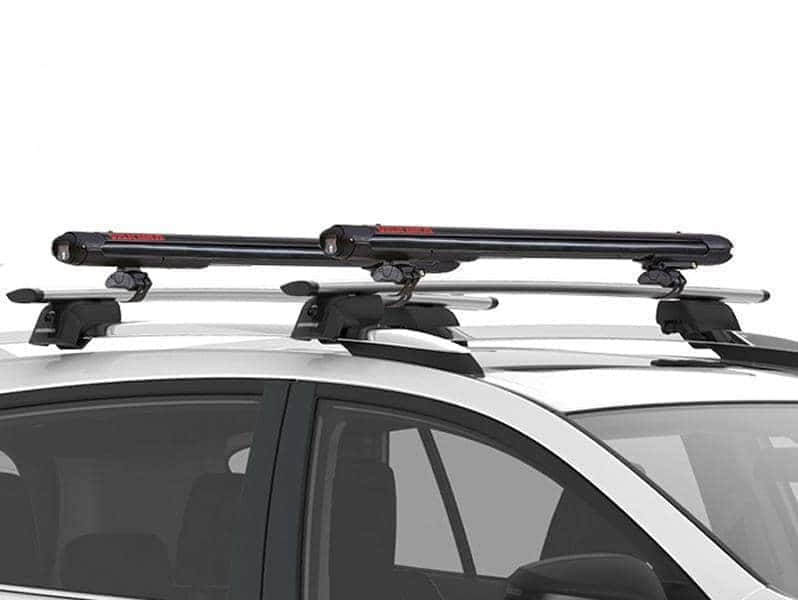 FATCAT 6 EVO
$309.00 + tax
The FatCat EVO is Yakima's sleekest, quietest, and sweetest ski & snowboard mount. It is wide enough to carry six pairs of powder skis – up to 136mm at the tip – or four snowboards. FatCat EVO mounts tool-free on virtually any roof rack. The OverHang™ clamp attachment point makes it easier to reach your skis or boards. SKS locks are built in for added security, and the mirror black finish looks awesome on your roof.
PRODUCT DETAILS
· Easily carries six pair of skis – up to 136 mm wide at the tip – or four snowboards
· Aerodynamic design delivers a quiet ride and streamlined good looks
· Universal mounting system works with round, square, factory, and most aerodynamic roof racks
· Integrated SkiLift provides clearance for tall bindings
· DoubleJoint™ hinge expands for easy use with thick skis and boards
· For easier access to skis and snowboards, the OverHang™ clamp-mounting position shifts the mount further out on your vehicle's roof rack
· Large button makes it easy to open with gloves or mittens on
· Sleek mirror black finish looks great on your roof
· Integrated SKS (Same Key System) locks included
· Compatible with T-slot crossbars – just add the SmarT-Slot Kit 2 (sold separately)
HIGHROAD
$249.00 + tax
Secure, sleek, and simple to use, the HighRoad is Yakima's newest premium upright bike mount. The adjustment-free hoop, with its TorqueRight™ tightening knob, loads a variety of bikes quickly and easily. The HighRoad secures the bike by the wheels for ultimate bike protection and the low-profile design minimizes hatch interference. Universal mounting hardware fits most roof racks.
PRODUCT DETAILS
· New wheel hoop fits 26" to 29" wheels and tires from 23mm to 4.0" with no adjustment needed
· New integrated TorqueRight™ knob quickly and easily secures the bike with precision
· Requires no wheel removal and makes no contact with the bike frame – a great option for carbon fiber bikes and custom paint jobs
· Sleek, low profile tray minimizes hatch interference
· Tool-free, universal mounting hardware fits most roof racks
· Add your own bike lock to the integrated lock loop for additional bike security when your vehicle is parked
· Easily convert to integrate with T-Slot crossbars with the addition of a SmarT-Slot Kit
· Add SKS Locks (2) to the included TailWhip™ cable to secure your bike and mount to your roof rack (sold separately)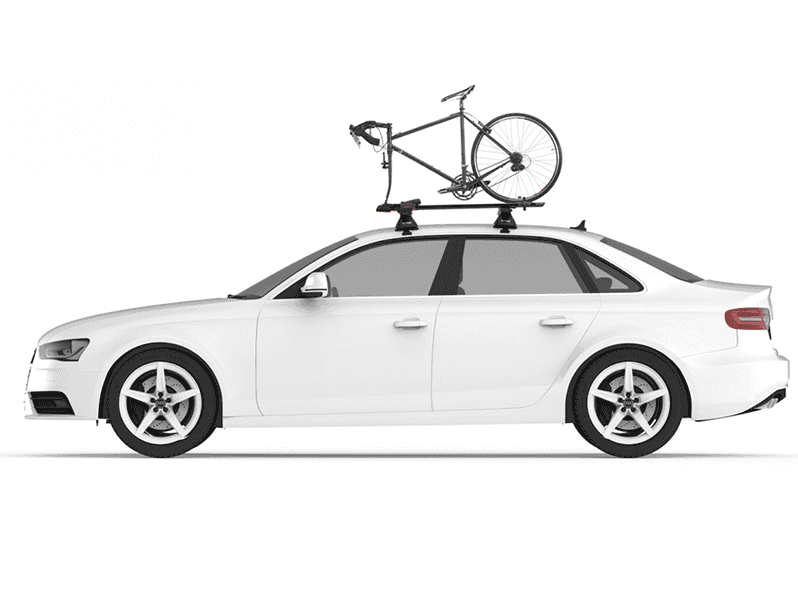 HIGHSPEED
$239.00 + tax
The new premium fork mount, the low-profile HighSpeed, is streamlined, strong, and versatile. It easily transports mountain, road, and fat-tire bikes and fits both quick release and thru axles. Bikes are secured using the new and easy-to-use TorqueRight™ knob for a precise and strong hold. The sleek and stylish HighSpeed tray is designed for maximum hatch clearance. Universal mounting hardware fits most roof racks.
PRODUCT DETAILS
· Securely carries a variety of bikes including road, mountain and up to 5" fat-tire bikes
· Fits Yakima round, square, factory, or aerodynamic bars
· Seamlessly carries both quick release (9mm) and thru axle bikes (12mm, 15mm, 20mm)
· New TorqueRight™ knob quickly and easily secures the bike with precision.
· Sleek, low profile tray minimizes hatch interference and accomodates tires up to 5" wide
· Tool free, universal mounting hardware fits most roof racks
· Carry quick release 9 x 135mm fat bike with the Optional Fat Bike Adapter Kit (sold separately)
· Easily convert to integrate with T-Slot crossbars with the addition of a SmarT-Slot Kit
· Add SKS Locks to the TailWhip™ cable and crossbar attachment to secure your bike and mount to your roof rack. For additional security add a lock to the TorqueRight™ knob. (SKS sold separately)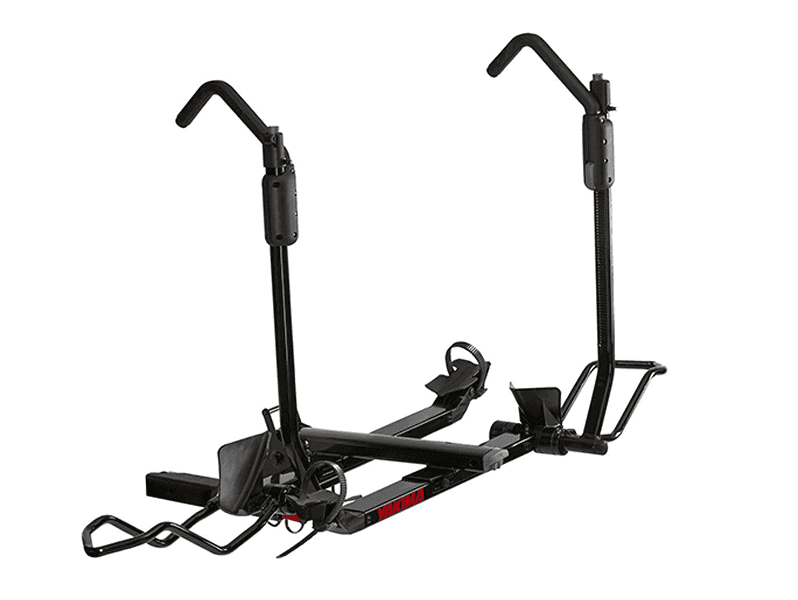 HOLDUP EVO
$549.00 + tax
Fast, secure, and easy to use, the HoldUp EVO is built to handle new bike standards, like fat tires and boost hubs, but it easily carries the classics too. The StrongArm hook secures the bikes at their wheels, protecting carbon frames and painted surfaces. Tilt the rack with bikes loaded for quick rear-of-vehicle access using the new easy to reach tilt lever and KickStart™ foot pedal. The super-simple locking SpeedKnob™ makes install a tool-free breeze and included SKS bike locks keep your mind at ease.
PRODUCT DETAILS
· Hitch mounted tray rack that loads quickly and carries two bikes without frame contact
· NEW Easy-access tilt mechanism and KickStart™ foot pedal make raising and lowering the rack a breeze, even with bikes loaded
· NEW Tool-free locking SpeedKnob™ makes installation and removal fast, easy and secure
· StrongArm hook secures bike at wheels, protecting painted surfaces and carbon frames
· Easily adjust trays to reduce bike-to-bike interference
· Fits most bikes, including fat-tire, mountain, road, hybrid, women's specific, BMX, kids' bikes, & E-bikes under 50 lbs.
· Accommodates disc brakes, through axles, boost hubs, and full suspension bikes
· Fits 20" to 29" wheel sizes and tires up to 4.8" wide
· Integrated SKS (Same Key System) locks included for added bike security
· Available in two sizes: 1.25" hitch receivers & 2" hitch receivers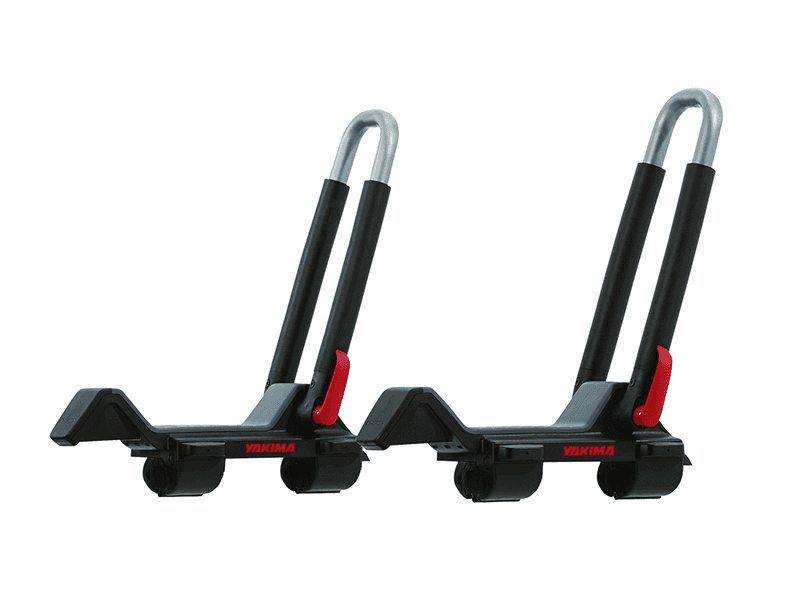 JAYLOW
$209.00 + tax
There may be divas on your road trip, but this boat carrier is very low maintenance. With multiple settings, the JayLow allows you to carry one boat in J-Cradle position, two boats in vertical position plus folds down when not in use.
PRODUCT DETAILS
· Carry 1 boat in J-cradle position or 2 boats in vertical, stacker position
· Fully assembled out of the box
· Tool-free installation
· Fits Yakima StreamLine & round, square, factory, or aerodynamic bars
· Adjust the upright position with the easy-to-use integrated cam lever
· Folds flat when not in use
· Includes Heavy-Duty Straps and Bow/Stern Tie-Downs
· SKS Locks sold separately
· Supports one boat up to 80 lb or two boats with combined weight of 110 lbs or less
· Minimum crossbar spreads of 24" or more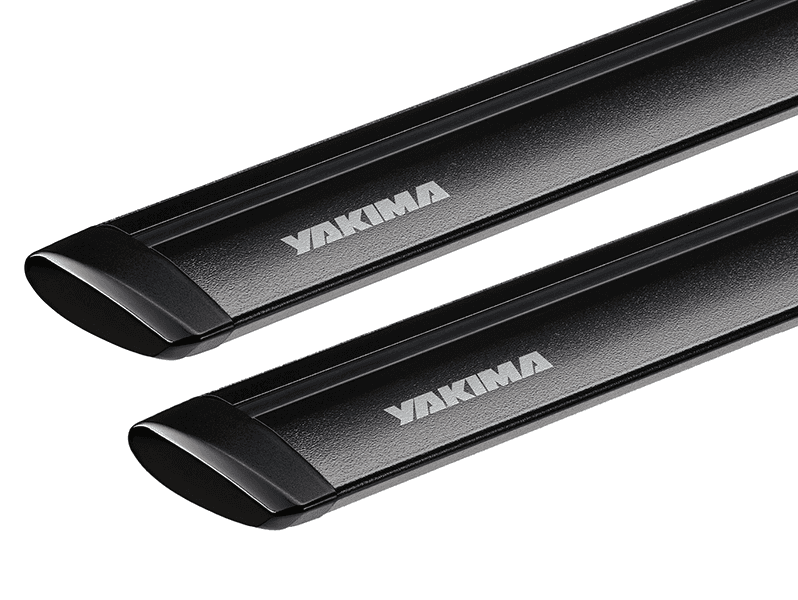 JETSTREAM (PAIR)
$219.00 + tax
Step up to the completely new Yakima bar. Thoroughly wind tunnel tested, the black JetStream's JetFlow design is exceptionally aerodynamic, incredibly strong, lightweight, and really quiet on the move. The root of a modern rack system, it carries a lot and looks good doing it.
PRODUCT DETAILS
· Comes with 2 Crossbars and 4 Endcaps
· Wind tunnel tested JetFlow™ teardrop shape is strong, quiet and exceptionally aerodynamic
· Seamless extruded aluminum construction is light, strong and sleek
· JetTruss™ internal support engineering adds serious strength for minimal weight
· T-slot with SmartFill™ push-down infill for easy mount attachment and efficient airflow
· Clear anodized alloy finish and high-gloss polymer end caps look awesome on your roof
· Available in 3 sizes: SM (50"), MD (60") and LG (70")
· Available in Black and Silver
· Streamline crossbars are compatible with any StreamLine Tower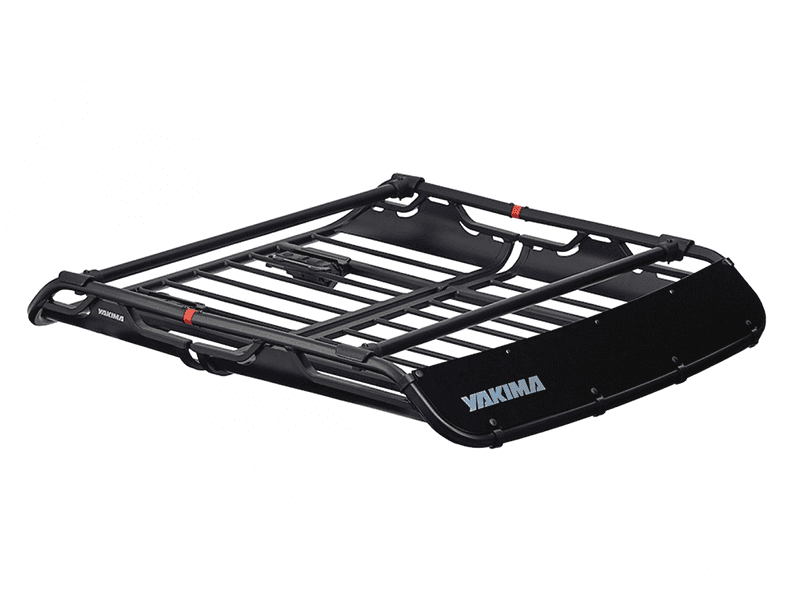 OFFGRID
Starting at $449.00 + tax
With its burly build and sleek, aerodynamic looks, the OffGrid cargo basket hits the sweet spot where modern style and country strong come together. Built to haul coolers, duffels, firewood, camping gear and more, the quick-release mounting system makes it super simple to install. Plus, it includes adjustable accessory bars for adding Yakima gear mounts to carry bikes, boats and boards on top.
PRODUCT DETAILS
· Burly cargo basket with a clean, modern design
· Adjustable accessory bars for adding Yakima gear mounts and pinning in bulky items
· Tool-free mounting hardware for easy install right out of the box
· Integrated fairing reduces wind noise and drag
· Made from strong, durable steel for years of rugged use
· Fairing & accessory bars fully removable to handle longer items up top
· Universal mounting hardware works with JetStream, CoreBar, RoundBar and most factory crossbars
· Add SKS (Same Key System) locks for added security (sold separately)
· Extension available to add 40% additional space
· Available in two sizes: Medium ($449) & Large ($549)
· Large Dimensions: 53" Long x 49" Wide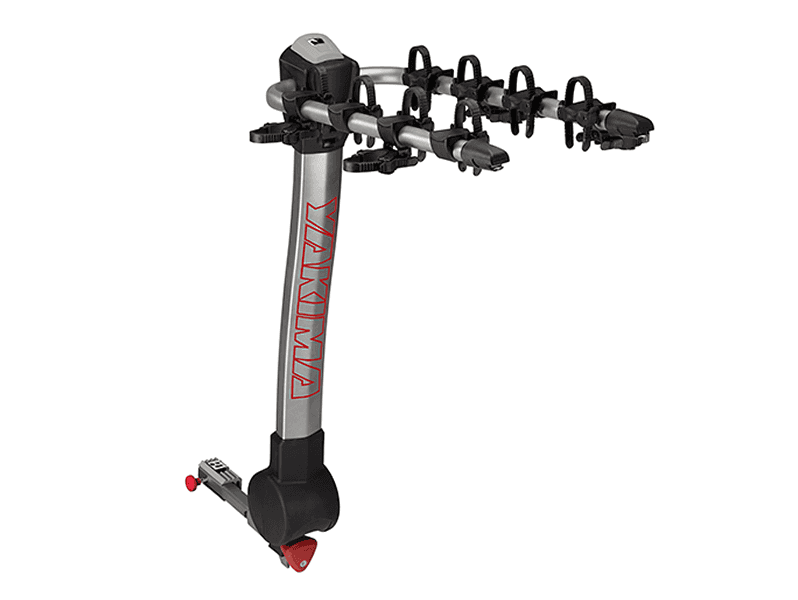 RIDGEBACK
Starting at $289.00 + tax
Here's a bike rack that goes long on features and is perfect for two. Starring the UpperHand control lever that tilts the rack to make access to your vehicle a cinch. Also includes zero-hassle ZipStrips to secure your bike, folds flat for easy storage and to top it off is fully-assembled out of the box. RidgeBack 2 holds up to two bikes. RidgeBack 4 and 5 also available.
PRODUCT DETAILS
· No garage required. Comes fully assembled with no bits and pieces.
· New UpperHand™ lever tilts rack down for vehicle access and folds it flat for storage.
· New ZipStrips™ secure bikes to the rack and are fully removable.
· Tool-free SpeedKnob™ quickly tightens and lock the rack to your car.
· Anti-sway cradles eliminate bike-to-bike contact.
· Enjoy a cold one with the Yakima signature bottle opener.
· Optional TubeTop™ allows you to carry a variety of bike frames.
· Fits 1.25" and 2" hitch receiver.
· Lock your bikes to the rack with the HandCuff locking cable (sold separately).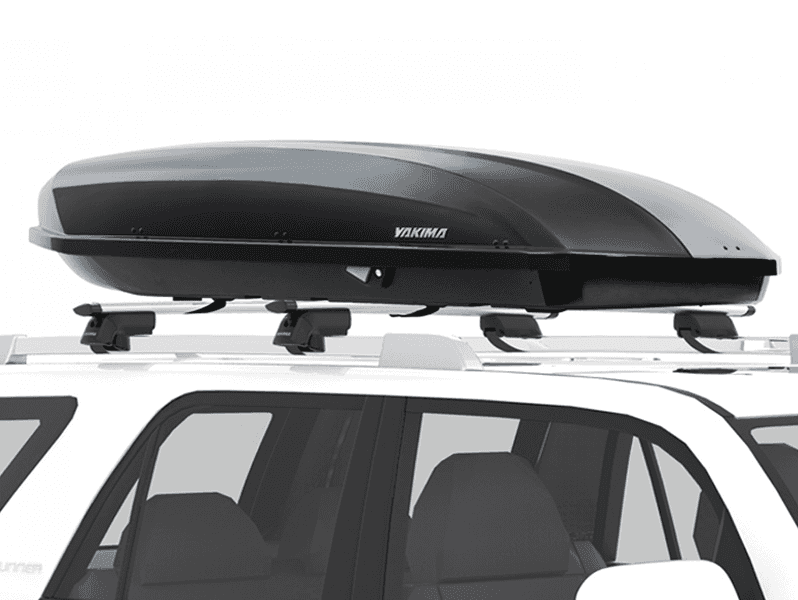 SHOWCASE 15
$699.00 + tax
Aerodynamic design with clean, high-gloss modern styling – the ShowCase 15 elevates the cargo box. Sized just right for weekends with friends, everyday urban traverses, and short road trips, this midsize box is ideal for wagons, cars, and CUV's. The dual-sided opening makes access easy, and ergonomic hardware makes install a breeze.
PRODUCT DETAILS
· 15 cubic feet of cargo space is an ideal fit for larger vehicles, wagons and CUVs
· High-gloss automotive quality finish highlights a distinctively modern aesthetic
· Dual-sided opening provides quick and easy access from either side of your vehicle
· Easy, intuitive push-button latch holds tight to keep gear safe
· Internal lid stiffeners improve hatch durability, ease opening and closing
· Tapered tail provides excellent tailgate clearance
· Maximum Ski / Snowboard length: 180 cm
· Fits round, aerodynamic, factory and square crossbars
· Available in Anthracite (shown) or QuickSilver colors
· SKS Locks included for added security
· Made in the USA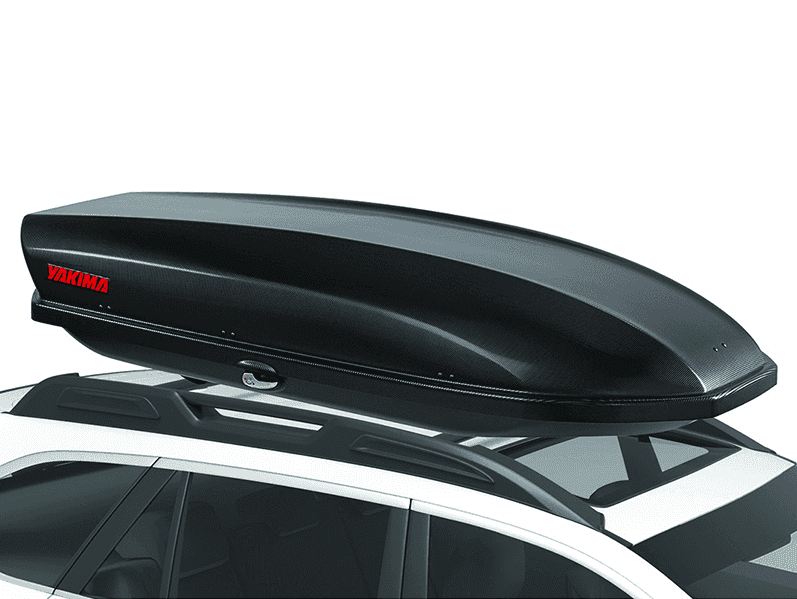 SKYBOX 16 CARBONITE
$549.00 + tax
Get your friends in the car and your gear into a SkyBox. Versatile, yet sleek and aerodynamically designed to reduce drag and wind noise. Internal lid stiffeners add rigidity while the SuperLatch™ ensures security. Quick-release mounting hardware fits most crossbars.
PRODUCT DETAILS
· Sleek, aerodynamic Carbonite textured lid
· No assembly required
· Tool-free installation/removal from vehicle
· Fits Yakima round, square, factory, and aerodynamic bars
· Designed with internal lid stiffeners for durability and easy open and close
· SuperLatch™ security ensures your lid is secure to its base, and your gear is safe
· Dual-sided opening for easy access on either side of your vehicle
· Tapered design reduces hatch interference
· Available in five sizes: Lo, 12, 16, 18, and 21 cubic feet
· Hauls gear for up to 3 campers; fits snowboards and skis up to 185cm
· Made in the USA with up to 80% recycled material
· SKS Locks included
· Minimum and maximum crossbar spreads: 24" – 36"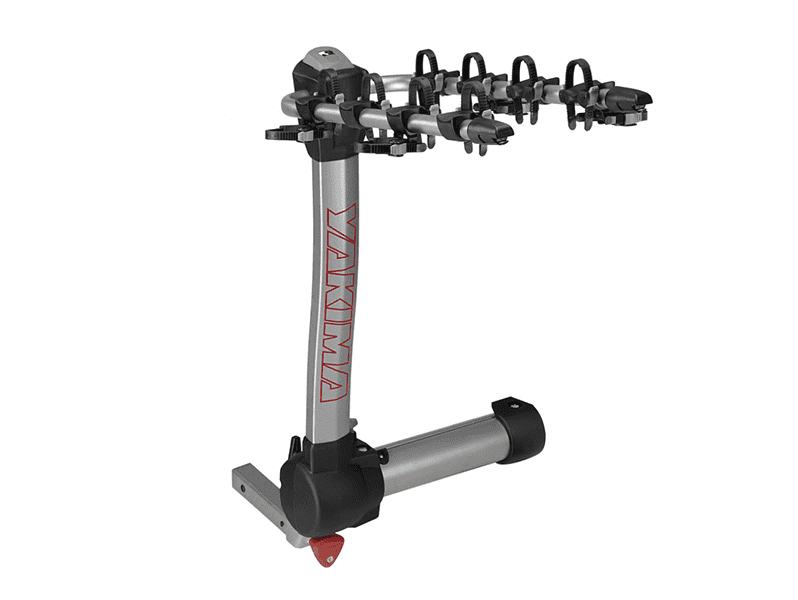 SWINGDADDY
$409.00 + tax
The SwingDaddy is a swing away hitch rack with all the right moves. Get easy access to the rear of your vehicle anytime during your road trip, without the hassle of having to remove your bikes. So many usable features, including zero-hassle ZipStrips™ to secure your bikes and the integrated SpeedKnob™ for tool-free installation.
PRODUCT DETAILS
· Swings away with bikes loaded to provide easy access to rear of vehicle
· Tool-free installation with locking SpeedKnob
· Arms fold down when not in use
· Zero-hassle ZipStrips quickly secure bike to the rack
· SKS HandCuff bike lock (sold separately).
· Carries up to 4 bikes
· Fits 2" receiver
· 4 bikes. Total weight, 150 lbs. Maximum bike weight 40 lbs each.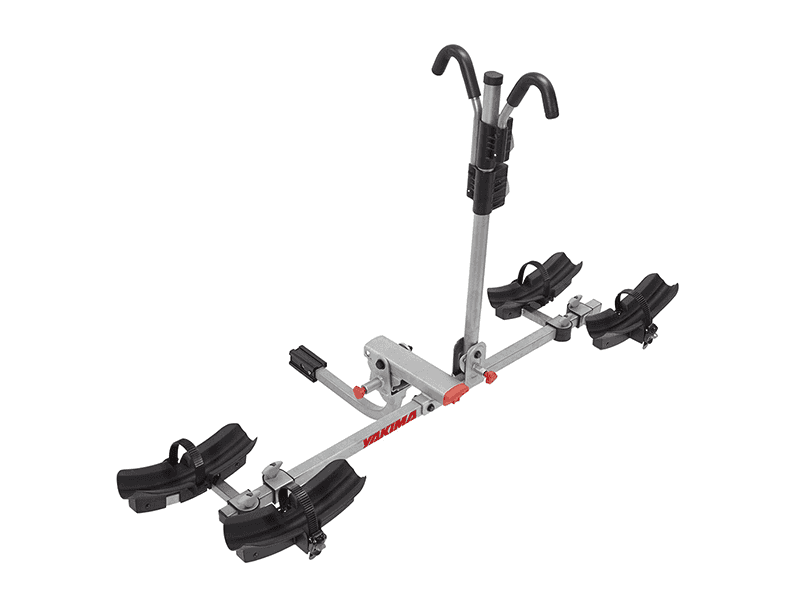 TWOTIMER
$349.00 + tax
Transport 2 bikes regardless of frame design, suspension or wheel size. Perfect for fat bikes, bikes with fenders and women's specific bikes. Holds up to two bikes.
PRODUCT DETAILS
· Transport two bikes regardless of frame design, suspension, or wheel size
· Ideal for fat bikes, kids' bikes and fenders
· Secures bike by the frame with padded arms
· Fits 1 ¼ or a 2" hitch receiver right out of the box
· Low tray height for quick and easy loading and unloading of bikes
· Folds down with bikes loaded for rear-of-vehicle access
· Folds up when not in use
· *FatStraps (not included) are necessary for carrying fat bikes
· Maximum bike weight 45lbs/20.5 kg (Total maximum load 90lbs)